"I am Boba Fett! Son of long dead Jango Fett!"
-Boba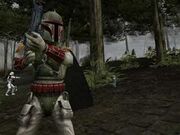 Boba Fett is a rookie bounty hunter. He was cloned from Mandalorian bounty hunter Jango Fett and raised as his son.
Long lost friends with Danson Delta-40 since childhood before his dad took him to Geonosis. His favorite foods include: Cheeseburger, french fries, and a Blue Kamino drink. Nervous at first, and great at buffing, Boba tries his way to earn back Jabba the Hutt's trust. He succeeds by bringing back a runaway droid to Jabba, although he leaves Danson behind on Dagobah after Danson almost screwed up the hunt.
Ad blocker interference detected!
Wikia is a free-to-use site that makes money from advertising. We have a modified experience for viewers using ad blockers

Wikia is not accessible if you've made further modifications. Remove the custom ad blocker rule(s) and the page will load as expected.